kc male and female Alaskan Malamute Puppies For sale - Edinburgh
Friday, 15 June 2018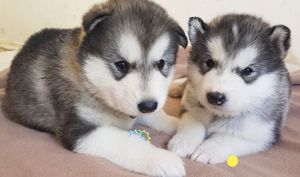 Item details
City:
Edinburgh, Scotland
Contacts

daryldonaldson
Item description
Our yellow collared girl has a very striking white blaze on her forehead making her easy to spot in any picture. She is one of the larger girls and slightly paler than the others. She is quickly finding her confidence and has taken to following me around!
All pups are eating well and starting to show their personalities more..
Thank you for reading and feel free to contact anytime for further info by droping your contact email.