Bookkeepers in Edinburgh - Edinburgh
Friday, 23 April 2010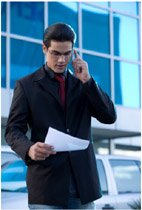 Item details
City:
Edinburgh, Scotland
Contacts

Khurram Anwer

07894348723
Item description
Are you finding that book-keeping is confusing and taking up too much of your time?
Are you finding VAT a little daunting?
Are you starting up a new business and need book-keeping advice?
There is a solution to your bookkeeping problems – let qualified bookkeepers take care of all your bookkeeping and accounting needs

VOK Associates is a local professional book-keeping service company based in Craigentiinny, serving the Lothian and Edinburgh areas. We specialize in the production and maintenance of accurate ledger accounts, VAT return and Management Accounts Focusing on these core bookkeeping functions the company is able to guarantee accurate, timely and efficient results to meet your specific individual or company needs.

At VOK ASSOCIATES, we will take the stress and strain of trying to juggle accounting function along with you trying to make more sales for your company. As a fully qualified bookkeeper and Member of the Institute of Certified Bookkeepers you can be assured that work undertaken will be perfomed professionally and comply with all necessary regulatory requirements.VOK Associates offer services aimed to help relieve you of these demands by providing professional and efficient services at competitive rates whilst at the same time helping you to avoid paying the high costs involved when engaging accountancy firms.
We offer a flexible service to suit your requirements by providing both on site services at your premises or alternatively we can collect your books and records for preparation at our office. We can also perform a lot of the bookkeeping process via e-mail especially for those using computerised accounting packages and document scanning

SERVICES OFFERED

Bookkeeping

Maintaining accurate and timely financial information is vitally important in the successful running of a business. Such information helps you control your business; to manage debtors, creditors and cash flow more effectively; and to react quickly to changing economic circumstances and thus remain competitive.Bookkeeping forms the basis of our portfolio of services. Whether your records are manual or computer based we provide a full range of services to ensure your accounts are completed to a quality standard on a regular basis INVOICING (Purchase & Sales Ledger)
NOMINAL LEDGER (Ledger Accounts)
TRIAL BALANCE (Journal Entries)
BANK RECONCILIATION
AGED DEBTOR & CREDITOR ANALYSIS

VAT Returns

As registered member firm of ICB, VOK Associates is able to compile and submit a VAT return on your behalf. Whether it is as part of an ongoing quarterly arrangement, an ad hoc requirement to help out when times are busy or even to review the figures you have prepared yourself, you can be confident that the work undertaken will be timely, correct and comply with all HMRC requirements.Given the information you provide we guarantee that this service will strive to reduce your VAT liability, or, if applicable increase any rebate due.We are able to prepare your VAT return. If you're a business start up and have yet to formalize your accounts, we can still prepare your return and provide formatted back-up of the data used.

Management Accounts

The preparation of management accounts are necessary to assist in making business decisions and will be requested by your accountants, auditors, bankers, Inland Revenue and other third parties. We can prepare management reports on a monthly or quarterly basis. These reports are prepared in accordance with your policies and requirements. Accounts can be prepared on a monthly or quarterly basis providing a fully reconciled balance sheet and profit and loss accounts, cash flow forecast, budgets as well as key financial ratios, including analysis of financial trends and variance analysis.

Fixed Asset RegisterWe can prepare and maintain a fixed asset register to track asset additions and disposals and calculate depreciation charges.